25 manieren waar ouders weg van zijn waarop je kinderen kunt vermaken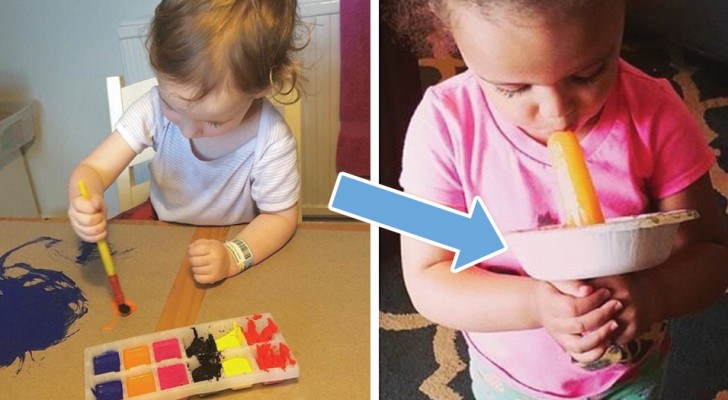 Advertisement
Met al deze technologische hulpmiddelen waar we tegenwoordig over beschikken, voelen veel ouders dat ze van veel verantwoordelijkheden zijn verlost. Je kinderen vermaken wanneer je uit eten gaat in een restaurant, daar zorgt de tablet voor, dat ze de middag doorkomen, dat doet de tv. En voor het slapen gaan zorgt de smartphone. Maar de rol van een GOED ouder is hetzelfde als altijd, namelijk dat 'ie zich altijd op zijn kind moet richten zonder die taak aan iets of iemand anders uit te besteden. Hier zijn een aantal trucs waarvan we zeker weten dat goede ouders deze wel zullen bevallen!
Advertisement
1. Maak stempels van gehalveerde aardappels: een oude manier van spelen die nooit gaat vervelen!
Advertisement
2. Ooit bedacht dat je je kinderen de schutting laat verven met water?
3. Als je kinderen rustig wilt krijgen met iets te eten (dit eigenlijk nooit een goede aanpak) doe het lekkers in een beker als op de foto! Er zal meer tijd gaan zitten in het kunnen pakken ervan dan het opeten zelf!
4. Zo zorg je ervoor dat ijsjes niet gaan lekken, gebruik een bord van papier of plastic en maak een gaatje in het midden.
5. Deze ketting is niet alleen leuk om te maken, hij is ook nog eens leuk om te zien en houdt kinderen lekker 's zomers koel: vergeet niet om hem vaak nat te maken!
Advertisement
6. Voor de lange reizen, niet alleen in de lucht, zijn stickers die je op het raam kan plakken altijd handig.
7. Spreid een doorzichtig zeiltje op de grond en laat kinderen erop kliederen, zeg er wel duidelijk bij dat ze niet op de vloer mogen tekenen!
Advertisement
8. De beste manier om watermeloen aan de kleintjes te geven zonder dat het een bende wordt.
9. Betrek kinderen bij je oefeningen thuis. Ze doen je niet alleen na, maar ze zullen sport ook leuk gaan vinden!
Advertisement
10. Een spelletje voor buiten: in plaats van de standaard kleurkrijtjes los je deze in water en maak je vloeibare kleuren die je kunt uitsmeren met penselen.
11. In plaats van oude stiften weg te gooien, zet ze in water. De overgebleven kleur daar kan je een soort van mee aquarellen.
Advertisement
12. Dit kan je ook doen met het vormpje voor ijsblokjes!
13. Om te voorkomen dat kinderen de bellenblaasvloeistof laten vallen maak je het flesje vast aan iets stevigs zoals een poot van een stoel.
Advertisement
14. Bescherm je vloerbedekking door je kinderen in een ruime mand of iets soortgelijks te zetten.
15. Leg een stuk zeil onder de kinderstoel. 't Is een prima manier om te voorkomen dat vloeistoffen en stukjes eten op de grond valt.
Advertisement
16. Sluit stopcontacten af met pleisters of plakband.
17. Maak een handvat aan de winkelwagen, daardoor blijven kinderen bij je in de buurt in de supermarkt.
18. Gooi geen dozen weg want voor kinderen is het een wereld van vermaak!
19. ... en ook voor volwassenen!
20. Bevestig een haakje aan de achterkant van de kinderstoel zodat je het slabbetje altijd bij de hand hebt.
21. Deze moeder heeft een oude tissuedoos hergebruikt en er een handige opbergbox van gemaakt waarin de snacks voor kinderen onderweg vers blijven.
22. Met een wasmand zorg je ervoor dat een baby niet omvalt tijdens het badderen.
23. Teken (of laat je kind dat doen) een stratenkaart van een stad op de grond zodat hij er met een auto door kan rijden
Advertisement